Do you know your credit score but are wondering what it means? We're here to help you understand it. The data pulled from all of your financial histories is placed into five primary categories that make up your FICO score. These five factors are as follows: payment history, amounts owed, length of credit history, new credit, and types of credit used. Represented by the pie chart below, each factor is weighed differently – some are weighed more and some are weighed less. To find out which areas of your personal finances should be given more attention, review the easy-to-use chart below, and then read out tips for raising your score through these five factors.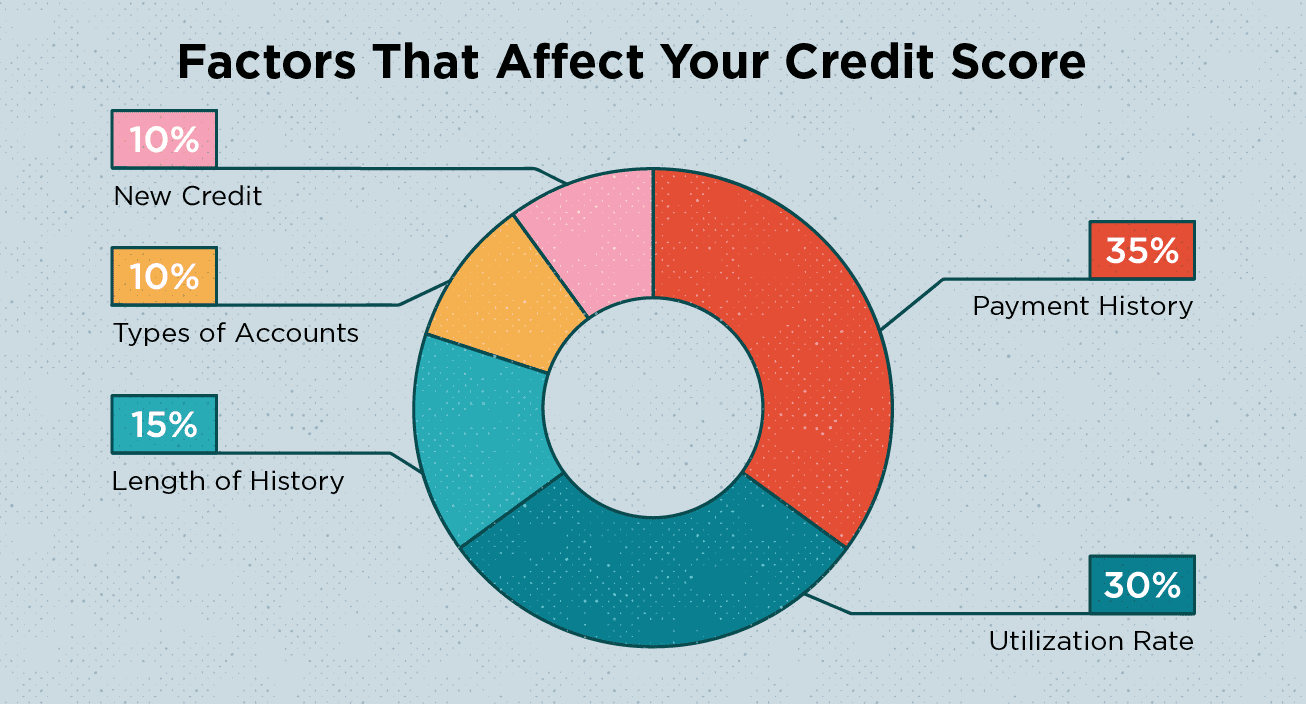 What Makes Up a Credit Score?
Payment History
As the most weighed factor of your credit score, your payment history is a very important factor in determining your chances of qualifying for loans and mortgages. We all know that there is no way of going back and changing your past, but there are indeed ways of erasing your past mistakes. With 35% of your credit score is calculated from your payment history, it is important to make sure that you avoid missed payments and late payments. Contact our credit team to find out how you can get your bad items removed from your payment history.
Amount Owed
The next largest factor that determines your credit score is the amount that you owe to your creditors. This is calculated by the amount that you owe on all of your accounts, and how much credit is available to you on your revolving accounts. To easily determine where you stand in regard to the amount owed, you can calculate your credit-to-debt ratio. In this, you simply must divide the amount of debt on your credit card by the limit amount on your card, and then multiply by 100. For example, if you have $2,000 in debt on the card and the limit is $10,000, then your credit-to-debt ratio is 20%. Anything below 50% is an acceptable ratio.
Length of Credit History
The third factor of your credit score is particularly pertinent to young people. This number is calculated by how long your cards have been open. Basically, the longer your accounts are open, the better. In calculating your length of credit history, FICO takes the following factors into account: how long your collective credit accounts have been established, how long each credit account has been established, and how long it has been since you used each card. The best advice regarding your length of credit history is to keep all of your cards open for as long as possible.
New Credit
Making up 10% of the weight of your credit score, having new credit is an easy way to boost your score. If you have a steady source of income, then consider opening one or two new cards for charging small items. The credit reporting agencies will, however, penalize you for overdoing it and opening too many cards in a short period of time. In order to effectively build your credit by opening new credit cards, it is important to do so in moderation.
Types of Credit Used
Finally, the last factor of your credit score is the types of credit that you use. The types of credit considered in your FICO score are as follows: credit cards, retail accounts, installment loans, finance company accounts, and mortgage loans. It is important to have a good mix of all of these different types of credit in order to boost your credit score. Diversity in your credit cards and accounts is essential to building a good credit score.